For young children it offers a secret world of adventure. They will light up with excitement at the prospect of searching for pirates hidden treasure, going crabbing or just passing the time with a bucket and spade building sandcastles.
The island has a diverse wildlife population which includes owls, kestrals, sparrowhawks, brent geese, peacocks, cormorants, pheasants, montjacks, rabbits and foxes. It has over 3000 mature trees and a variety of flora and fauna, butterflies and an industrious insect community.
There are bicycles for taking a leisurely ride around the tracks and paths, maybe stopping on the way to pick a few blackberries. On a rainy afternoon there's the Shack cinema with its huge collection of classic and vintage movies, where you can also enjoy a tasty snack.
Activities
Amenities include heated outdoor swimming pool (May to September), Cinema, pop-up Games room and Gym, Beach volleyball & Soccer pitch, Mini-golf & Croquet lawn.
We work with partners specialising in a variety of fun outdoor activities including: Boating, Fishing, Clay pigeon & water sports.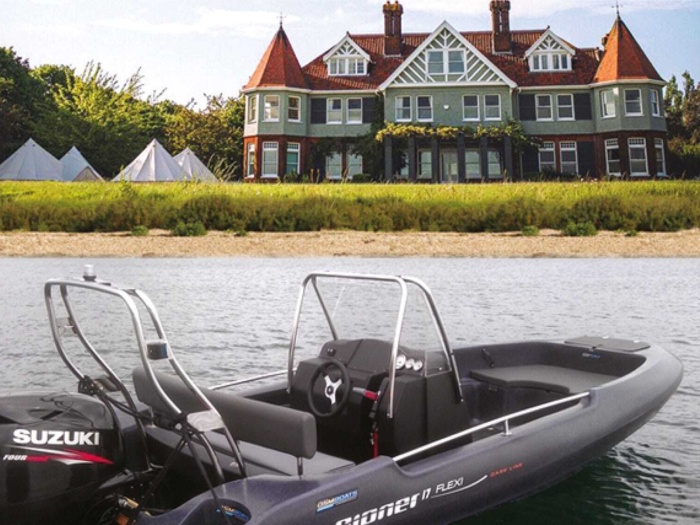 "The idea of Osea Island as a quiet haven may seem at odds, but that it is. Accessible twice a day at low tide, you'll be met with quaint wooden jetties, rugged sand dunes and verdant fields. Skim pebbles on the seashore, pick berries in the orchards or take a rowboat out for the afternoon to truly embrace Osea's rustic tranquillity."

Natalie Evans-Harding — Net-A-Porter
Music & Film
Osea is a destination for the creative industries and has played host to major film & music productions.
"The Lichen-covered trees meet with the approval of Jon. 'That means that the air is really clean' he declares. The island's a haven for wildlife - Osea is the only place where all five species of the British owl can be found. We see rabbits and foxes and enough birds overhead to wish that we knew what they were."

Sarah Turner — Daily Mail
Gallery
"Enid Blyton's Famous Five would love it here. I stop at a pillbox, admiring the view across to a marina, listening to the calls of oystercatchers. Autumn is a particularly good time to see wildlife on and around Osea. 'The Blackwater estuary has about 75,000 wintering birds' says Chris Tyas of the RSPB."

Deborah King — The Times
"Sitting here on that Sunday evening, drinking a good bottle of Shiraz over the tender echo of Radio 2, was a few hours of perfect bliss; it was as if I'd be allowed to relieve someone else's memory of the 40s, I was my very own Captain Jack in the war, imbued with all the romance and adventure of a bygone era."

Nige Burton — World Travel Blog
"Steeped in history and mystery, the island has housed residents from the Vikings and the Romans to Robert Devereux, Second Early of Essex and in more recent times it has played host to a number of exclusive parties and secret weekends held by musicians, models and nature enthusiasts alike book to stay another time in the pretty clapboard cottages."

Isobel Carmichael — The Journal
Osea's philosophy is a laissez-faire one: visitors can wander anywhere, help themselves to Raleigh Chloe bikes – with special fat tyres for the tracks and beaches – borrow DVDs from the library, play pool and table tennis. In the summer there is croquet, mini golf and beach volleyball, you can swim in the heated outdoor pool and of course the sea. There are few notices and only a couple of hand-painted signs – to 'the bomb factory' and 'the shack', both of which are converted warehouses with dance floors empty and waiting for the music."

Patrick Barkham — The Guardian